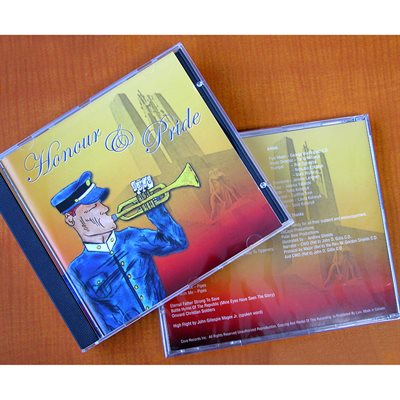 Press and move to zoom.
Mouse over image to zoom.
CD "HONOUR AND PRIDE"
Product Code:700314
This 26 minute CD contains: O Canada, Last Post-Trumpet, 2 Minutes Silence, Act of Remembrance "For the Fallen" by Laurence Binyon for War Veterans, Act of Remembrance "For the Fallen" for Peacetime Veterans, Act of Remembrance "Far East, Prisoner of War Memorial" for Hong Kong Veterans, The Lament-Flowers of the Forest-Pipes, Rouse-trumpet, God Save The Queen, Heart of Oak - RCN, RCAF Marchpast, Has Anyone Seen The Colonel, It's a Long, Long Way to Tipperary, Mademoiselle From Armentières-PPCLI, The British Grenadiers-RC Artillery, St. Catharines - RCR, Amazing Grace - Pipes, Abide With Me - Pipes, Eternal Father Strong to Save, Battle Hymn of the Republic (Mine Eyes Have Seen The Glory), Onward Christian Soldiers, and High Flight by John Gillespie Magee Jr.
You may also be interested in